Directors / Contact Information
Michael Childs
Director of Bands, Stephenville High School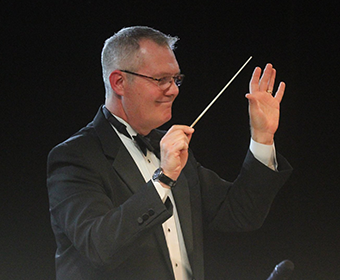 Email: Michael Childs
Phone: 254.968.4141
Michael Childs in his 29th year of teaching, currently serving his 24th year as the director of bands and fine arts department chair at Stephenville High School. His teaching responsibilities include the high school marching band, wind ensemble, jazz ensemble and jazz combo as well as beginner woodwind classes.  Bands under his direction have consistently received UIL Sweepstakes awards and his wind ensemble has twice been selected as a finalist in the ATSSB Outstanding Performance series and the UIL State Wind Ensemble Festival. His jazz ensembles have consistently been competitive, their awards including: outstanding 4A band at the Texas Tech jazz festival and outstanding in class jazz band and combo at the Tarleton Jazz Festival.
Mr. Childs currently serves as the president of TMEA Region 7 and is the Region 7 Texas Band Masters Association representative.  He is an active adjudicator in both concert band and jazz band contests.  Mr. Childs is an active clinician, having served as a presenter at the Texas Bandmaster's Association and conducting region concert and jazz bands.  Mr. Childs continues to be an active performer, playing saxophone in the Tarleton Ultra Club and Langdon Center Big Bands.  Michael is a graduate of Brazoswood High School and received his Bachelor's and Master's degree in Music Education from the University of North Texas.
His professional affiliations include ATSSB, TMEA, TBA, TJEA, and Phi Mu Alpha Sinfonia.  Michael and his wife Stephanie have two children Caitlin & Cameron, both alumni of the Yellow Jacket Band.
David "DJ" Handy
Assistant Band Director, Stephenville High School – Percussion
Email: David DJ Handy
Phone: 254.968.4141
David (D.J.) Handy serves as the Percussion Director for Stephenville ISD. Mr. Handy holds a  Bachelor of Music Education, a Master of Music, and a Master of Percussion Performance from the University of Oklahoma. He studied percussion under the guidance of Dr. Lance Drege, Dr. Andrew Richardson, and Dr. Ricardo Coelho de Souza. He studied music education with Dr. Michael Raiber, Dr. Charles Ciorba, Dr. Charlene Dell, and Dr. Christopher Baumgartner.
During his time as an undergraduate, Mr. Handy taught at several different middle and high schools in Norman, Oklahoma. He taught private lessons to middle school, high school, and undergraduate percussion students. While pursuing his Bachelor, he performed in the University of Oklahoma Pride of Oklahoma snare line and performed with several different ensembles including the OU Wind Symphony, OU Symphony Band, OU Symphony Orchestra, OU Jazz Band, OU Trombone Choir, OU Horn Ensemble, and other small chamber ensembles. Mr. Handy started his graduate career at the University of Oklahoma in the fall of 2017 and graduated in December of 2019. During his time as a graduate student, he served as the instructor of record for the undergraduate music education course "Percussion Techniques" and the undergraduate non-major course "Beginning Drumset". Mr. Handy directed the OU Percussion Ensemble, led the percussion section for the OU Wind Symphony, and served as the logistician for the OU Symphony Orchestra while aiding in their Houston tour. Mr. Handy performed with all of the aforementioned ensembles along with serving as the principal percussionist for the Vitam Musica Chamber Orchestra under the direction of Mr. Dylan Madoux, North American Saxophone Alliance Conference, the Oklahoma City Community Orchestra under the direction of Mr. Jamie Whitmarsh, and performed with the OU Graduate Percussion ensemble at the Percussion Arts Society International Convention chamber ensemble competition. After graduating in December, he served as the long-term substitute band director for the Classen School of Advanced Studies High School in Oklahoma City while teaching music theory at the El Sistema Fine Arts Program. Lastly, Mr. Handy spent a year serving as the Assistant Percussion Director at Rockwall ISD in Texas working with Mr. Russell Lancaster, Mr. Brandon Downs, and others.
Chris Conway
Henderson Junior High Head Band Director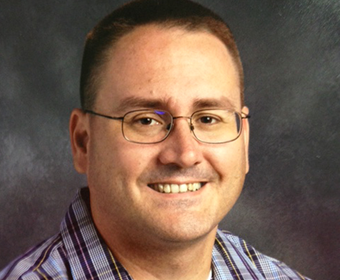 Email: Chris Conway
Chris Conway is currently in his seventh year as head band director at Henderson Junior High.  He has been teaching for twenty-four years and has taught at both the high school and junior high levels.  Originally from Shreveport, Louisiana, Mr. Conway Holds a Bachelor in Music Education degree and a Master of Music degree from Northwestern State University in Natchitoches, Louisiana.
As a student, Mr. Conway served as the head trombone section leader for the "Spirit of Northwestern" marching band, performed with the Natchitoches-Northwestern Symphony Orchestra and NSU's top concert band the NSU Wind Symphony.  He was a member of Phi Mu Alpha fraternity, Phi Eta Sigma and Kappa Delta Pi honor societies and served as a senator for the university's Student Government Association.
As a teacher, his ensembles have consistently received superior ratings at UIL Concert and Sightreading contests, festivals and marching competitions.  As the head director of Tenaha High School, his bands made it to the UIL State Marching Band Contest and finished 1st in the state of Texas in the ATSSB Outstanding Performance Series for 1A high schools.
As a professional musician, he has performed with the Bill Causey Big Band, Sounds of Swing Big Band and Centenary Summer Concert Band.
He has served as a UIL adjudicator and clinician throughout Texas.   He currently serves as the Middle School Band coordinator for Region 7, is an active member of the Texas Music Educators Association, Association of Texas Small School Bands, and the Texas Music Adjudicators Association.
Mr. Conway lives in Stephenville with his wife Janine and their two boys.
Tiffany Boyett
Assistant Band Director, Stephenville High School
Email: Tiffany Boyett
Phone: 254.968.4141
Tiffany Boyett serves as the Assistant Band Director for Stephenville High School. Mrs. Boyett holds a Bachelor of Music Education degree from McNeese State University in Lake Charles, Louisiana, and a Master of Music degree with an emphasis in Conducting from Texas A&M University-Commerce in Commerce, Texas. Mrs. Boyett has been a music educator for five years at both the high school and junior high levels.
As an undergraduate student at McNeese State University, Mrs. Boyett served as drum major of "The Pride of McNeese" Marching Band, performed with the Wind Symphony on french horn and bass clarinet, the Symphonic Band on clarinet and trumpet, the University Brass Quintet and Woodwind Quintet on french horn, the Basketball Pep Band, and was a participant in the Louisiana Intercollegiate Band. During her time in Louisiana, she instructed private lessons and marching band camps at the local high schools in Lake Charles, Louisiana and in Leesburg, Georgia. She has also been a staff member for the McNeese State University Summer Band Academy teaching chamber ensembles, conducting, and leadership skills.
During her time as a graduate student at Texas A&M University-Commerce, Mrs. Boyett studied conducting under Mr. Phillip Clements and had the opportunity to conduct the Concert Band, Symphonic Band, and multiple Chamber Ensembles. Other responsibilities included assisting with The "Pride" Marching Band and Basketball Band, serving as the instructor of record for the undergraduate Conducting I course, and assisting with the instruction of the undergraduate Conducting II and Music Education courses. While at TAMU-Commerce, Mrs. Boyett had the opportunity to work closely with composer Michael Daugherty during the recording and editing process for the World Premiere of his composition "Of War and Peace" performed by the TAMU-Commerce Wind Ensemble.
As an educator, Mrs. Boyett has previously served as an Assistant Band Director at Crandall ISD, Mabank ISD, and as the Head Junior High Band Director at Celina ISD. Under her direction, The Celina Junior High Wind Ensemble received a superior rating at the 2021 UIL Concert and Sightreading Contest. At Stephenville ISD, Mrs. Boyett will be teaching the high school Symphonic Band, Marching Band, and Beginner french horn and clarinet classes. Mrs. Boyett is excited to join the Yellow Jacket Band family!
Her professional affiliations include ATSSB, TMEA, TBA, Kappa Kappa Psi, and Tau Beta Sigma.
Stephanie Childs
Color Guard Director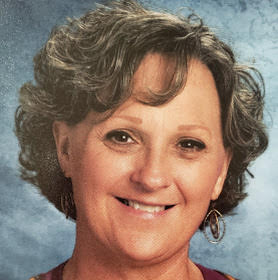 Email: Stephanie Childs
Phone: 254.968.4141
Stephanie graduated from Oklahoma State University in 1999. She's been teaching color guard/winter guard for 35 years and 21 of those have been with Stephenville! She is currently on her 16th year in teaching Kindergarten with Stephenville ISD and loves making an impact in the hearts and minds of her growing students. Stephanie has been married to Mike Childs for 21 years and they have two children, Caitlyn and Cameron who are grown but BOTH are proud YJB alumni!
Gregory Copeland
Assistant Band Director, Henderson Junior High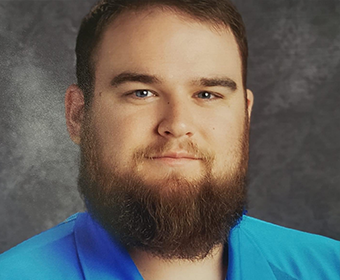 Gregory Copeland is currently in his 4th year as the assistant band director at Henderson Junior High.  He graduated from Connally High School, attended McLennan Community College and received an Associate of Art's degree and Tarleton State University, and received a Bachelor in Music Education degree.  He is currently working on a Master of Music Education degree at Tarleton State University.
As a student, Mr. Copeland served as major of The Sound and The Fury, the Tarleton State Marching Band, performed with the Tarleton State Wind Ensemble and Symphonic Band, the Waco Community Band, and the McLennan Community College Wind Ensemble.  Notable performances include the New York Showcase in Carnegie Hall and the McDonald's Thanksgiving Day Parade in Chicago.  He also served as interim athletic band director during the Lone Star Conference Basketball Tournament, helping push the Tarleton Texans to win the Lone Star Conference Championship game.
As a teacher, he took his ensemble to Concert and Sight-Reading Contest for the first time and received superior ratings.  He also works as the assistant to the percussion director and the Stephenville Indoor Drumline, which took top marks at competitions over the last 4 years.  At the 6th grade level, Mr. Copeland teaches trumpets and French horns.
Mr. Copeland lives in Stephenville, and as of June 2021 will be married and living with his wife, two dogs, and two cats.